Today, I pulled "Writing". Yet again, I probably spent more time thinking about what sort of writing I mean and what I wanted to do with today than on actually typing (or scrawling) anything.
I can't see me ever being the sort of professional writer who gets up every day, has a cup of tea, dashes off 5,000 words no matter what and then gets on with whatever else it is that they do. I mean, I might make it there before I die, but it would be by accident rather than design at this stage.
But I do enjoy writing. I enjoy putting together an argument or a story, working out what's really important in what I want to say and getting rid of the bits that get in the way of that (usually).
And it does deserve to be on the list, because writing something more substantial than diary-like blog posts and a few tweets is something I want to be able to do, I think I've got some substantial things to say and actually, now I think about it, I remember that the whole idea for this "make something every day" thing came out of an idea of focusing on writing – I thought I might try to turn out a short essay every week – but the prospect of doing that and only that was too triggering for my ADHD brain (mainly because it would mean I wouldn't have time for any of the other things on the list).
So today I did two things, I suppose. I tested out the Tweet Storm action in Drafts with a little 9 tweet thread.
Before posting it looked like this: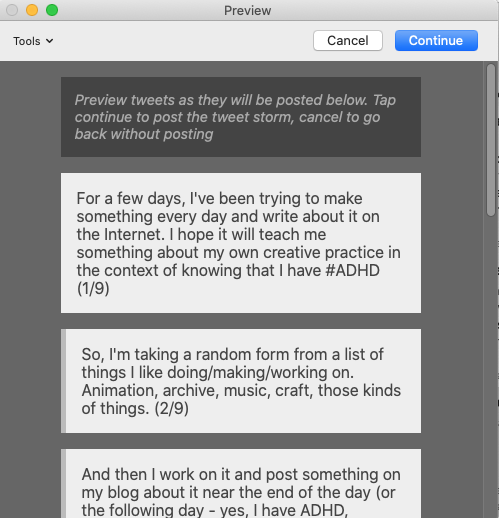 And then, after lunch, I wrote about 500 words draft on "What were the 1980s really like?"
I got sidetracked again by thinking about writing tools and blogging software – it's a curse! – but it's OK, the project isn't about doing the thing all day, no matter what and not thinking about anything outside of your subject area. So I cut myself some slack and had a nakd bar.
Oh and I suppose I wrote this post as well, but that doesn't count, does it?